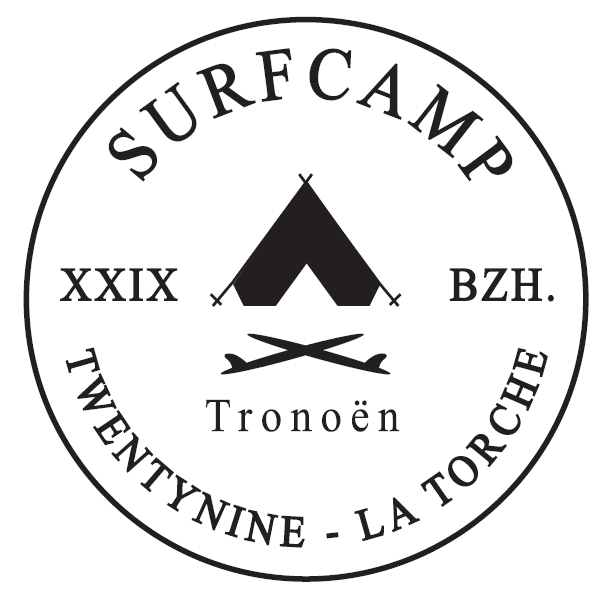 THE ADULT SURF CAMP
Surf Camp XXIX is located in the hamlet of Tronoën in a Bigouden farmhouse, 1.5 km from the beach and 3 km from ESB La Torche. It has undergone a complete interior renovation in 2019 with a larger capacity and a completely new look. It is a peaceful place on the edge of the dunes and in the heart of the Bay of Audierne.
 With a capacity of 24 people, the Surf Camp has 4 bedrooms for 2 to 8 people, a large living and dining room, a kitchen, three bathrooms and a large garden with sea view. A new studio/apartment is also available from 2019 which can accommodate 3 people. This accommodation has a double bedroom, a living room with sofa bed, a bathroom and a kitchen-dining room.
Alone, with family or friends, for a night, a weekend or a week's stay, Surf Camp XXIX is the ideal place for a stopover, a stay or a sports holiday in a unique and preserved setting. Between April and November, outside the school holidays, we welcome you for a free or "All Inclusive" stay (see dates and availability below). These holidays are open to both beginners and advanced surfers. Surfing lessons are in the morning and you have the rest of the day to go back to surfing with the equipment (boards and wetsuits) which remains at your disposal for free throughout your stay. All Inclusive stays are full board.
If you need more information, please contact us on 02 98 58 53 80 or info@twenty-nine.com.
Info +
- From 18 years old or accompanied minor
- Shuttle Quimper station / Surf Camp XXIX possible during the day, price 20€ per person and per journey. Please let us know your train schedule in advance.
- For group rates (CE, communities and schools), please contact us.
- Before registering, please check carefully the dates of availability of the proposed packages.
---
Dates of the Stays and Prices
Block "surfcamp-adult" not found